WAF to WAAP++ | A 3-Step Plan to Modernize Your AppSec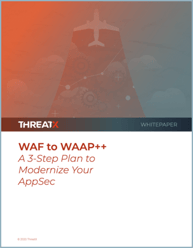 As web applications and their threats have evolved, traditional WAFs have struggled to keep pace. Applications are built and deployed in new ways, are accessed in new ways, and face an increasingly broad and sophisticated set of risks and threats. Originally coined by Gartner, Web Application and API Protection (WAAP) introduces a modernized approach to application security that addresses these new challenges.
This white paper shares a 3-Step Plan to:
How to Protect All Your Applications
Get Protection Against All Types of Threats
Vastly Simplify Your Security Operations
Complete the form to the right to download the white paper.